Live Game Shows just like on television … and you're the contestants!!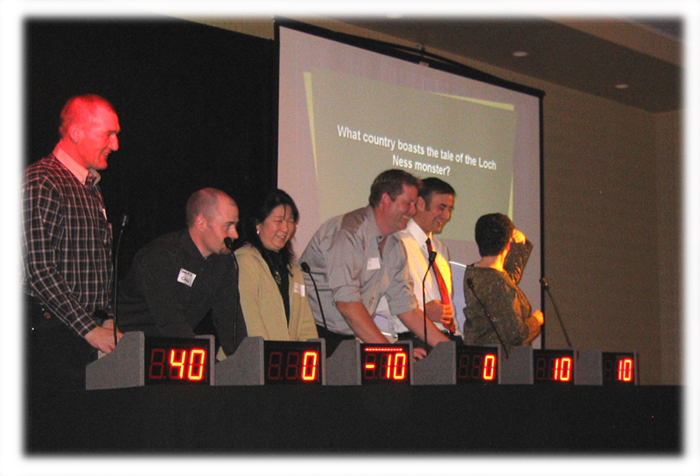 Trivia with Flare!
Not just Trivia – an Event of hosted trivia set in a series of four fun challenge stages…. a great way to:
create an EVENT that draws in your audience
get people off their phones and interacting in a fun way.
Best of all – it's NOT the same trivia questions every game, each round can be a different category from many genres, including history, science, pop culture, company background, music, movies, you name it!
Into a certain fandom or theme? How about a theme night, where our questions could be about anything from Star Wars, to Star Trek, to Marvel vs DC, 60's, 70's, 80's, 90's, The Walking Dead, Harry Potter…. even custom games… whatever gets your geek on. Have an idea about a theme we could develop? Let us know! We add popular ideas all the time!
GameShowHQ Trivia works with individuals but encourages teams of 2 – 10 people for your event.
All Your Event Needs!
Supplies, machines, inflatables, entertainment, movies screens, climbing systems, photo booths, tents, shows, laser tag, gaming systems, props, telegrams, Djs, Karaoke, seasonal themes…. at TeeBreeze we really do have anything you need. 🙂
"Just wanted to let you know, everyone was very happy with the performance! We had a blast kudos to him 🙂 and thank you once again."
Kate - Calgary Metals
"I just wanted to thank you very much for being so generous with both my preschool and Earl Grey school. The kids had so much fun.  The Dunk tank was a huge hit!!!  Have a great summer and we will book you for our next year-end activities"
Jennifer S. - Earl Grey School
"That was amazing! I can't believe the kids sat in one place for 40 minutes!! You truly do perform magic!"
Linda - Calgary
"That was amazing! I can't believe the kids sat in one place for 40 minutes!! You truly do perform magic!"
Linda - Calgary
"Thank you for coming to our son's 5th birthday party, you not only made his day but you kept the parents entertained as well."
Rhonda & Mark - Cochrane
"The party was a HUGE success!  Wanted to let you know that your drivers were AWESOME and give them a shout out J Will definitely use you again!"
Michelle G.
"Thank you.  The event went very well, and our families loved the bouncer, obstacle course, and the mini-golf. Your staff were professional and helpful, so again thank you for helping to make our day a success."
Cindy - CanLearn Centre
"Thanks again for doing such a wonderful job for us. You guys are the best!"
Danielle N.
"Just wanted to say Thanks for everything on Friday. You did a great job and everyone said they had a fun time! Hope you guys had a safe trip home .  🙂"
Cherilyn - Camrose Association For Community Living