Character – Balloon Grams…

Birthday's, Anniversary's, Stag's, Stagette's, "I'm Sorry's", Retirements.
Anytime is perfect for a Singing Telegram
All singing telegrams are done in good taste and humor. We pride ourselves on providing entertainment that the whole family can see.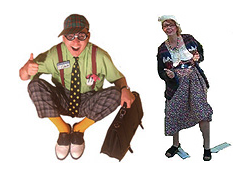 Nerds
The long lost daughter, son, girlfriend, boyfriend, admirer, or biggest fan! You can't go wrong having this character invade their day!
There is no escaping these nerds and hiding under the desk will only provoke them to be louder! How long have they loved you? They then count the ways … one (snort), two (snort} …
Movie Equivalent Rating:G

Marilyn Monroe
I wanna be loved by you, just you and nobody else but you …
Strutting out of nowhere, Marilyn will flirt (tastefully) her way into the hearts of all present.
She needs a new Mr. President and this guy would be perfect. You know?
Movie Equivalent Rating:G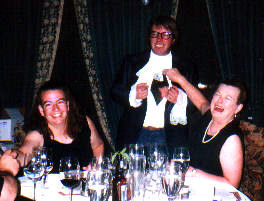 Austin Powers
Yeah, Baby, Yeah!
Your gonna have a groovy time when Austin shows up full of Mojo to take that girl on a shagadelic ride.
Movie Equivalent Rating:G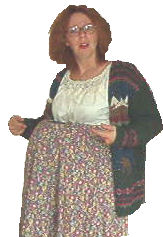 Miss Preggo
A twist on our nerd.
Miss Preggo has arrived and BOY!! is she not a happy camper!
13 months now she has been pregnant (or however long works best) and she has had enough. Time to show this louse for who he really is!

Movie Equivalent Rating:PG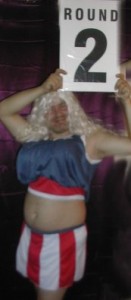 Male Ring Girl
Tired of all those buxom beauties strutting around a ring?
Yeah us too!
This girl has it all big chest, long hair, hairy legs, what more could a new up and coming fighter ask for?

Movie Equivalent Rating:PG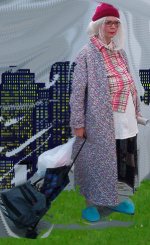 Old Bag Lady
You think you got it bad??!!

Let this old bag lady tell you how good you have it, give ya some lessons on the 10 best ways to live longer.

Young pups, what do they know anyway, well when she's their age …

Movie Equivalent Rating:G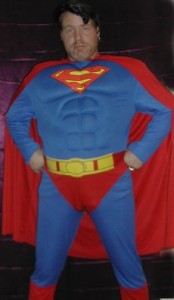 Superman
It's a bird, it's a plane, no it's your birthday and Superman is gonna teach you how to be a Superguy!

Movie Equivalent Rating:G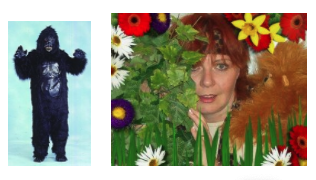 Gorilla to Tarzan/Jane
Imagine this, a giant monkey dancing with the "victim", when suddenly the gloves come off ….. what's going to happen…
"HAVEABANANA" just like magic Out pops Tarzan or Jane, they have come to take the birthday boy/girl back to the jungle with them.

This one is very interactive and generally involves a chair

That's it that's all I am telling you
Movie Equivalent Rating:G

Casanova/Kissing Bandit
How much does he love you? Let him count the ways! Runaway with Casanova, to be loved forever, to be treated like a Queen! Chu no, life could not get better.
Movie Equivalent Rating:G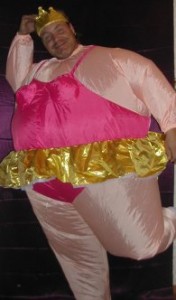 Ballerina
How could this beauty not dance his way into your heart!
Movie Equivalent Rating:G
Fat Tony
So, you think you got what it takes?
You think you can challenge our Tony?
Well say hello to our little friend!

Movie Equivalent Rating:PG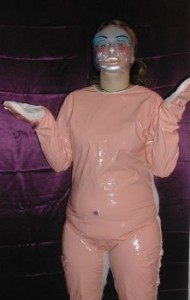 Blow Up Doll
Where have you been?
Just cuz you getting married now, doesn't mean this relationship is over does it?
This upset doll is perfect for Stags!
Movie Equivalent Rating:R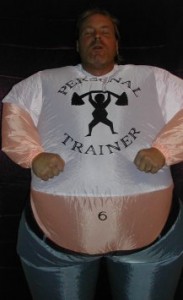 Personal Trainer
Get off that chair! Drop and give him 1! This guy is gonna "Pump you up!!"
Movie Equivalent Rating:G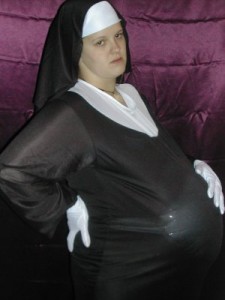 Pregnant Nun
Oh Goodness Gracious, look what cha done now.
Movie Equivalent Rating:R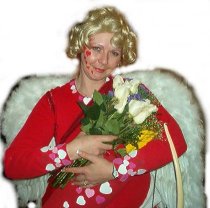 Cupid
What better way to say I love you then to have Cupid come strutting into the office, shooting someone with an arrow, and crooning sweet words in dulcet tones.

Candies and flowers will be forgotten, this messenger never will.

*Candy and flowers are an additional charge.

Movie Equivalent Rating:G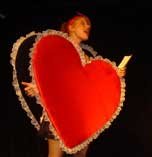 Singing Heart
If Cupid is just a little much, try our singing heart!
Movie Equivalent Rating:G
Singing telegrams include a bouquet of balloons,
accustom song (depending on the character). We try to gather as much information as we can to personalize the experience.
The shows last between 10-15 minutes. Enough time to make an impression, but not to overstay our welcome.
——————————————————————–
Remember the more information we have, the funnier it will be.
These mini-shows are not scripted as no 2 people are alike, so if there is a special scenario you would like, please just let us know.
Character Gram Balloon Delivery
Unlike the Singing Telegram, this is a very quick way to show how much you care.
You can choose a variety of cartoon characters.
This works well with the younger ones.
(Character grams include a bouquet of balloons, "Happy Birthday" or "Jolly Good Fellow")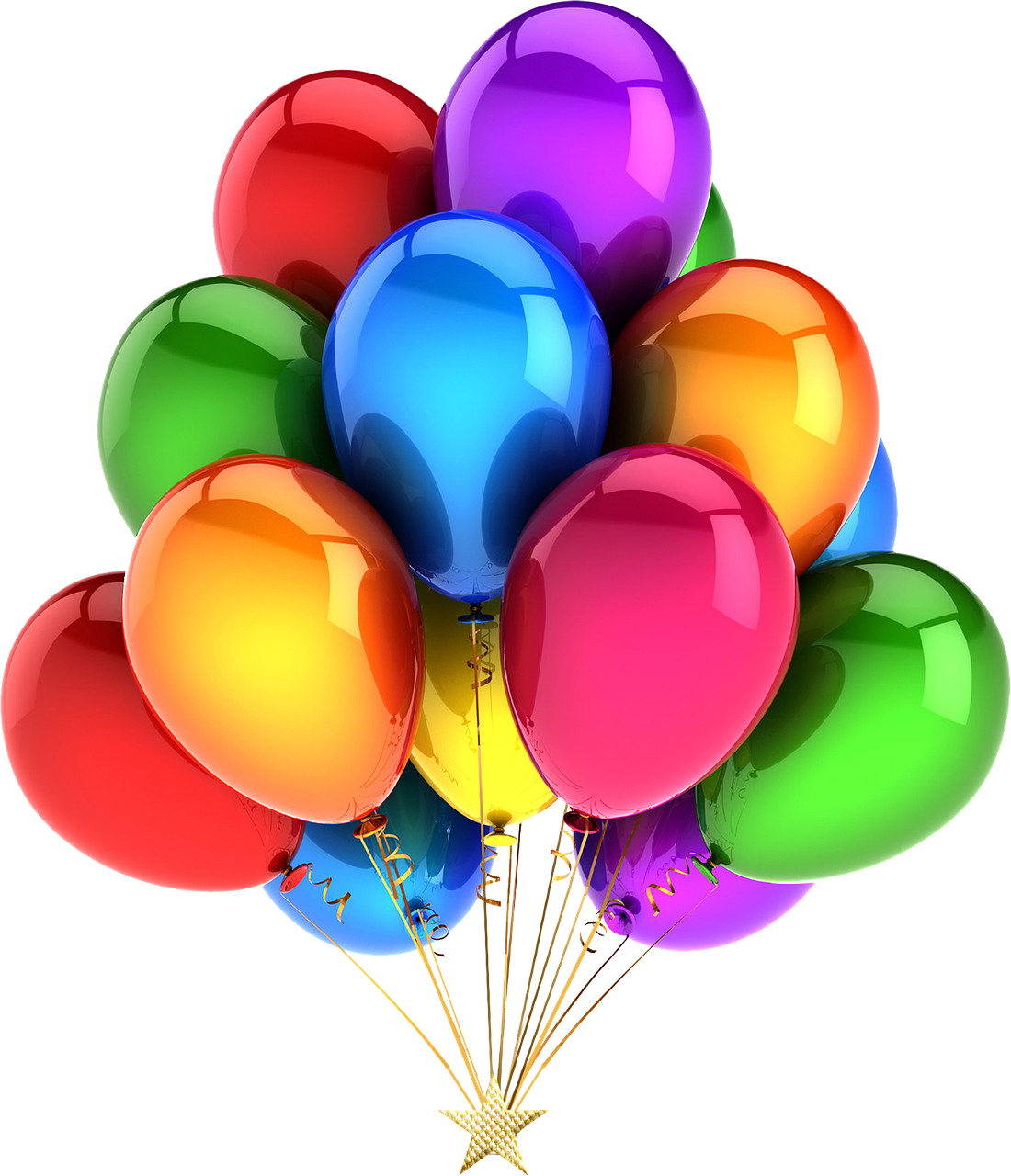 Balloon Delivery
Give the smile that only balloons can bring.
A large bouquet of balloons can be delivered anywhere in the city.
All Your Event Needs!
Supplies, machines, inflatables, entertainment, movies screens, climbing systems, photo booths, tents, shows, laser tag, gaming systems, props, telegrams, Djs, Karaoke, seasonal themes…. at TeeBreeze we really do have anything you need. 🙂
"Just wanted to let you know, everyone was very happy with the performance! We had a blast kudos to him 🙂 and thank you once again."
Kate - Calgary Metals
"I just wanted to thank you very much for being so generous with both my preschool and Earl Grey school. The kids had so much fun.  The Dunk tank was a huge hit!!!  Have a great summer and we will book you for our next year-end activities"
Jennifer S. - Earl Grey School
"That was amazing! I can't believe the kids sat in one place for 40 minutes!! You truly do perform magic!"
Linda - Calgary
"That was amazing! I can't believe the kids sat in one place for 40 minutes!! You truly do perform magic!"
Linda - Calgary
"Thank you for coming to our son's 5th birthday party, you not only made his day but you kept the parents entertained as well."
Rhonda & Mark - Cochrane
"The party was a HUGE success!  Wanted to let you know that your drivers were AWESOME and give them a shout out J Will definitely use you again!"
Michelle G.
"Thank you.  The event went very well, and our families loved the bouncer, obstacle course, and the mini-golf. Your staff were professional and helpful, so again thank you for helping to make our day a success."
Cindy - CanLearn Centre
"Thanks again for doing such a wonderful job for us. You guys are the best!"
Danielle N.
"Just wanted to say Thanks for everything on Friday. You did a great job and everyone said they had a fun time! Hope you guys had a safe trip home .  🙂"
Cherilyn - Camrose Association For Community Living