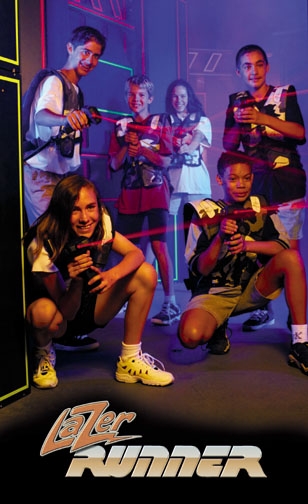 What exactly is LAZER RUNNER laser tag?
It's a sophisticated, interactive laser tag game played in a futuristic
arena.
Players wearing fiber optic Battle Vests and wielding laser-equipped phasers enter the arena, and the excitement begins.
Black lighting, theatrical fog, stunning graphics, and special effects
create the atmosphere. An eerie glow emanates from the front and back of the high tech fiber optic vests. Suddenly, laser beams (totally safe) pierce the darkness in a pyrotechnic display. Combatants hide behind
protective cover and maneuver through an interconnecting maze.
A fiery scarlet beam centers on your vest • Someone has you in their sights! • You're hit – a vibrating sensor thrums a sensation,
letting you know the bad news.
Your phaser is de-energized for 5 seconds – and the action starts again!
You attack your opponent's home base. Sentry Pods blast at your heels as you scramble for cover. The sound system kicks out a galactic heartbeat.
The suspense is unbearable. Strobes explode.
Special effects lighting create a dizzying display.
Sirens scream the impending danger!
LAZER RUNNER is pure physical adrenaline rush!
All Your Event Needs!
Supplies, machines, inflatables, entertainment, movies screens, climbing systems, photo booths, tents, shows, laser tag, gaming systems, props, telegrams, Djs, Karaoke, seasonal themes…. at TeeBreeze we really do have anything you need. 🙂
"Just wanted to let you know, everyone was very happy with the performance! We had a blast kudos to him 🙂 and thank you once again."
Kate - Calgary Metals
[/db_pb_slide]
"I just wanted to thank you very much for being so generous with both my preschool and Earl Grey school. The kids had so much fun.  The Dunk tank was a huge hit!!!  Have a great summer and we will book you for our next year-end activities"
Jennifer S. - Earl Grey School
[/db_pb_slide]
"That was amazing! I can't believe the kids sat in one place for 40 minutes!! You truly do perform magic!"
Linda - Calgary
[/db_pb_slide]
"That was amazing! I can't believe the kids sat in one place for 40 minutes!! You truly do perform magic!"
Linda - Calgary
[/db_pb_slide]
"Thank you for coming to our son's 5th birthday party, you not only made his day but you kept the parents entertained as well."
Rhonda & Mark - Cochrane
[/db_pb_slide]
"The party was a HUGE success!  Wanted to let you know that your drivers were AWESOME and give them a shout out J Will definitely use you again!"
Michelle G.
[/db_pb_slide]
"Thank you.  The event went very well, and our families loved the bouncer, obstacle course, and the mini-golf. Your staff were professional and helpful, so again thank you for helping to make our day a success."
Cindy - CanLearn Centre
[/db_pb_slide]
"Thanks again for doing such a wonderful job for us. You guys are the best!"
Danielle N.
[/db_pb_slide]
"Just wanted to say Thanks for everything on Friday. You did a great job and everyone said they had a fun time! Hope you guys had a safe trip home .  🙂"
Cherilyn - Camrose Association For Community Living
[/db_pb_slide]
[/db_pb_slider]